Uganda is a safe tourist destination come one come all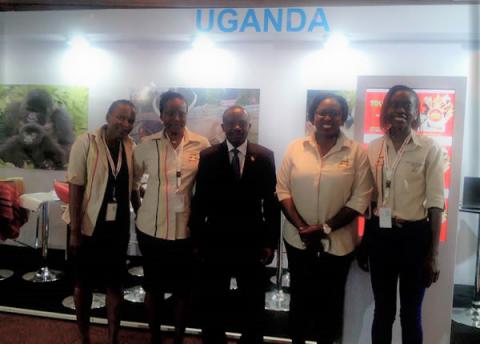 The peace and security situation prevailing in Uganda makes the country a safe tourist destination. This was stated by Mr. Nelson Ocheger, the Charge' D - Affaires of the Uganda High Commission to the Federal Republic of Nigeria during the 12th AKWAABA African Travel Market.
The event, which took place in the Nigerian commercial city of Lagos from October 30th-November 2nd, 2016, was attended mainly by participants from western, central, southern and eastern Africa.
Mr. Ocheger added that the existence of the beautiful scenery, unique wildlife and the hospitality of the Ugandan people coupled with a friendly visa regime make Uganda an ideal country to visit in the African continent.
The exhibition, in which the Uganda stakeholders including the High Commission, the Uganda Tourist Board and five tour operators took part for the first time, is the only international travel expo in West Africa. By taking part in the exhibition, the Ugandan participants aimed to promote and market Uganda as an attractive tourism destination to the West African market.
Speaking at the same function, the Senior Marketing officer of the Uganda Tourism Board, Ms. Safia Ali outlined Uganda's tourist attractions to include; national parks, game reserves, mountains, rocks, volcanoes, tombs, lakes, rivers and museums. The Ugandan team distributed hand-made bags, brochures, magazines, file folders, roasted coffee, etc. to the delight of visitors to the Ugandan stall.
AKWAABA is an annual tourism exhibition and the major travel market in West Africa, with a population of 270 people, 15 countries, and numerous airports and among the largest number of travellers in Africa.
Source: